2 Crystals and Several Chakras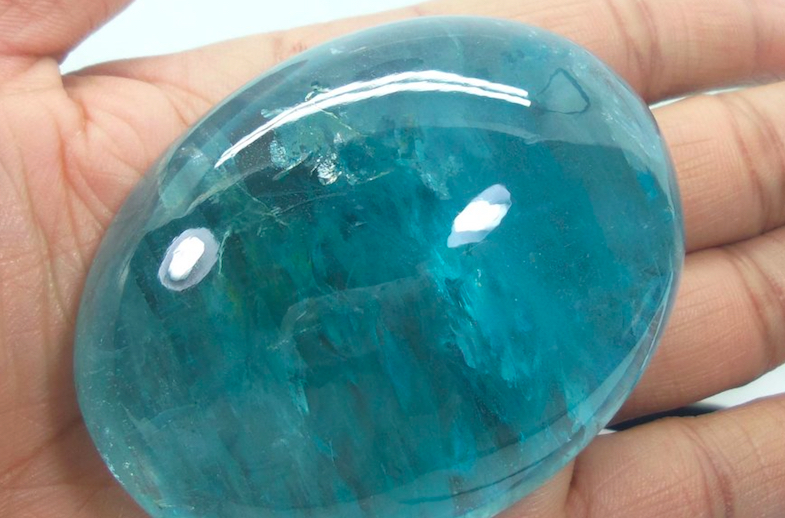 The trip to Mexico enhanced my appreciation of two crystals, and this blessing was unexpected but oh-so-on-time. Several vendors near the Teotihuacan Pyramids offered disks of obsidian and aquamarine, for jewelry or to use energetically.
AQUAMARINE Crystal. The Throat
I bought a beautiful, clear circle of aquamarine, three inches wide. The vendor rubbed it on his arms in circular motion, saying, "hurt" and "sore." I got the message. Aquamarine features:
Variety of the mineral beryl; crystal system is hexagonal (five pointed)
Hardness of 7.5-8; few crystals are harder than 8
Doesn't scratch or chip easily
Governs the throat chakra
Governs etheric and mental subtle bodies of the aura
Can help clear dulled energy
After writing on my laptop later that day, I rubbed the disk on my achy neck and shoulders. It worked immediately. Now, when I felt a shooting pain or throb on upper arms, torso or wrist, I rub it on. To have this healing piece of crystal was a boon.
I even place it on my First Eye when I meditate or go to bed. Scenarios come to mind as solutions to challenges. Because the disk is relatively large, I have not tried to use it on my throat.
According to Healing with Crystals and Chakra Energies, aquamarine energizes the immune system, helps recovery from illness, provides an energy boost and allows the body to resolve underlying causes of dis-ease.
"Occasionally, it may appear to exacerbate symptoms as they are lifted from the subtle bodies. If this occurs, use it with a stone that will ease the process such as kyanite or selenite."
There really isn't a wrong usage.  The connection to the etheric and mental bodies is a spiritual and clarifying aspect of the stone and works for me.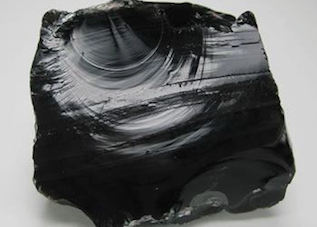 OBSIDIAN Black volcanic glass. Transformation
I was afraid of obsidian for years. My crystal-mama friends laughed at me. I had two experiences where just handling it on Day 1 resulted in upchucking on Day 2.
So I have experienced obsidian's reputation for helping to transmute mental and physical energy patterns. It has to be used with care, because buried truths can erupt like a volcano.
Obsidian was a prehistoric tool used for scraping, forming stone arrowheads, mirrors, "seeing the future," and more. Today, this tool of precision and considered better as a scalpel than metal. It is not a crystal but lava that hasn't had time to form into crystals. The stone features:
Igneous rock with inclusions of minerals and crystals
Hardness of 6
Governs the base, sacral and crown chakras
Governs the mental subtle body of the aura
Can help you delve deep
Is a grounding and purifying
My new 3-inch disk is placed right where I need it, on my lower abdomen (intestines) and stomach. These second and third chakra areas govern the digestive  system and our ability to take in life. Now I am inclined to accept life truths so they don't erupt without warning.
–Rev. Niamo Nancy Muid
-->