Removing Post Traumatic Slave Syndrome Using Essential Oils
If you don't yet have the booklet, let's introduce why you would choose essential oils for post-slave stress — that is, let's address this special, generational form of stress.
Why not antidepressants like Zoloft and Prozac?
These medications and all man-made chemical approaches to changing behavior come up short because they have way too many side effects that debilitate the mind=body=spirit.
I witnessed a close family member pscychedically trip out because of her use of medications known to induce thoughts of suicide. She eventually took her own life. She never learned to manage the extremes of emotions arising from her traumatic experiences.
The Post Traumatic Slave (Stress) Syndrome says that deeply emotional experiences are worsened when dumped on top of unresolved trauma passed on by generations of "structural racism" and slave-memory behaviors.
I wish I had the oils listed below back then, and feel very blessed and empowered now to have these oils for you.
Again, the following are mentioned in the booklet, Removing Post Traumatic Slave Syndrome Using Essential Oils, written by Niamo N. Muid and Shakira Abdul-Ali. Click here to get it.
Below, I've added some of my own experiences to give you more of an understanding of the oil's possible effects (though everyone is different). Discussion of the post-traumatic usage of pure oils is best done in group sessions. Call 201-966-1170 or 609-271-3821 for more information.
---
For Family and Social Relations
Frankincense: Boswellia sacra  (pictured) When in doubt pull the frankincense out. Good for all family uses.
Enhanced Confidence Blend: This blend contains black spruce, blue tansy, rosewood, frankincense. I use a drop on the chest and stomach area under my feet (the ball of the foot and instep) daily or every other day. The fragrant influences of the various oils seem to enhance my ability to stand very tall in the face of life's complexities, and to interact with difficult people with good humor.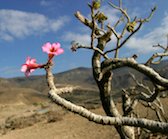 All My Relatives Blend: This is a blend of lavender, frankincense, black spruce, geranium, sandalwood, rose, galbanum, ylang ylang, cinnamon bark. When I use this oil on the bottom of my feet, I later feel a sense of having "gathered" myself and my faculties together into a strengthened, more solid spiritual space of being. Excellent for social events, publicity efforts, outreach, unsettled feelings, refocusing.
Rose: Rosa damascena.  This oil is a delight to smell and simply pass around a small group for a quick pick-me-up and transport me feeling. Rose has the highest energetic frequency of all oils known and you can feel it in this very special distillation. Makes you feel beloved.
Spruce: Picea mariana. The typical Christmas tree. (pictured below) I love the way spruce makes me feel. As if I've spruced up my well-being. I use it under my feet or sometimes on my shoulders.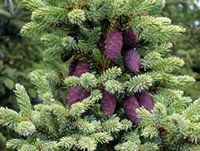 Balsam fir: Abies balsamea (supportive) From Idaho. Last year's batch was divine–the scent a lovely
combination of lime or citrus with wood just under it. Balsalm fir has a very strengthening yet light-hearted influence. It makes me feel like I can st
and up to anything.
Neroli: Citrus aurantium var. amara AKA bitter orange. (cool down) I can attest to the fact this oil is excellent for pre-menopausal women.

Clary sage: Salvia sclarea(mellowing) This is another excellent oil for the female change-of-life.
Ylang ylang: Cananga odorata (balancing) This is my favorite for leveling the playing field in gender relations, increasing feelings of accomplishment and can-do, and facilitating the calm handling of the mid-life crisis for both sexes.
---
For Activists, Artists, Social Workers, Alpha Types:
Tangerine: Cirtus reticulata (uplifting)
Blue Tansy: Tanacetum annuum (strengthening)
Black Spruce: Picea mariana (stabilizing) (pictured)
Cedarwood: Cedrus atlantica (composed feeling)
---
For Children:
Lavender: Lavadula angustifolia (calming)
Peppermint: Mentha piperita (stimulating & sharpening)
Roman chamomile: Chamaemelum nobile (ADD/ADHD)
Frankincense: Boswellia carterii (ADD/ADHD)
---
…and the Young at Heart
Cypress: Cupressus sempervirens (knees/joints)
Geranium: Pelargonium graveolens (skin)
Octoea: Ocotea quixos (inflammation)
---
Be Responsibile!
All oils referred to are based on the most recent research into the constituents and molecular makeup of undiluted essential oils. The results of diluted, stretched or chemically enhanced oil products may not be the same.
Still, the information provided is not offered as prescription, diagnosis or medical advice. This is education, and should be accepted (since it is scientifically backed) in the same spirit that you accept carrots are good for your skin and eyes or any other food has particular benefits for an organ or system in your body.
Pure, uncut oils are an addition to your daily health and beauty regimen, and only a drop or two is usually needed because they are extremely concentrated. Refer to the booklet for usage details.
DON'T FORGET: See your health professional for long-standing health issues and inform him or her of your interest in holistic approaches to facilitate healing, including using organically grown essential oils, aromatic derived supplements and other holistic plant products.
Healthfully,
–Rev. Niamo Nancy
Save
-->