The HealMobile As Your Energy Medicine Vehicle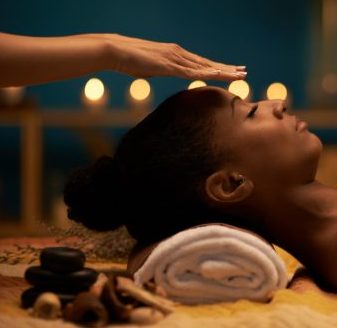 "I hold the space of energy medicine."
What is the HealMobile and what do I, as HealMobile driver, really do? Many people ask and the answer is really simple. I'm a deliverer of the energy medicine message, because everything I do has "energy as healing" running through it.
My main services are Reiki, spiritual aromatherapy, and couples counseling. My spirituality is based on the worship of/service to One God The Creator Alone.
REIKI: THE FIRST ENERGY MEDICINE IN THE USA
Reiki is Invisible Light from the Source of All Sources. As described in my instructional book, it was originally known as Reiki Massage and is best understood as a massage using energy or "energy massage." When I I use my hands to "give" Reiki, this energy is rendered accessible and presenced to the client.
The intention of a session is to harmonize, balance and accelerate healing. Other BENEFITS include
relief of physical pain
enhanced spiritual connection
calming of the spirit and nervous system
mental clarity
restoration of tranquility
FREE YOUR FEELINGS (FYF)
FYF is founded upon Reiki. Free Your FeelingsTM is for individuals and groups, leaders and workers who feel drained, are in pain or recovery, and/or find themselves at a serious crossroads in their life and want to get back on track and be on purpose.
Free Your Feelings is a personal form of "energy medicine."
FYF is comprised of two systems, Emotional Freedom Technique (EFT, Tapping) and Aroma Freedom Technique (AFT), because they can help you identify the blockages and obstacles and deal with them.
Roadblocks and obstacles, which everyone encounters in life, stand in the way of you living your most productive and healthy life.
You find yourself at a serious crossroads and must make courageous decisions about moving forward.
Requirements include that you have your favorite pure oils and a clear intention ready. This helps to get pivotal results.
How EFT & Aroma Freedom Work Together to Free Your Feelings
EFT, also known as Tapping, combines acupressure with communication and inquiry. EFT achieves results by using the fingers rather than acupuncture needles on special meridian points of the body. What happens is this:
When we Tap together in session, you as the client follow my lead in Tapping on points of the face and body.
I'll mention certain words of your story that you have already shared about your present challenge.
As we tap, I will prompt you to repeat after me, share what is coming up for you and ask questions.  I can, therefore, "give you back" your story and we can arrive at a higher level of clarity together.
Aroma Freedom begins with your identification of an intention or long-standing goal. We reach this intention or goal statement through the previous Tapping.
I guide you in using pure essential oils to unleash and sort through feelings associated with ingrained blocks or obstacles that prevent you from being your best or accessing your answer.
Once you have a handle on what you have allowed yourself to face and deal with, we move on to a step of affirming your results.
This involves retraining your mind-body to recognize the shift in your awareness of what is possible for your life.
Results of FREE YOUR FEELINGS
The combined EFT and AFT process encourages holistic, self-generated healing. Consequently, astonishing improvements in one's condition may be noticed immediately. However, several sessions are sometimes needed to embed the results. Not only is the spirit-mind-body multi-dimensional, but everyone's personal challenge and responses are unique.
Read a summary of FYF here. Read its ground rules.
Freed feelings are fulfilled feelings! I am praying your healthy goals are achieved in short order. If you'd like one FYF session, text me now (201) 966-1170. In addition, packages of 3, 6, or 9 sessions are available to give you the benefit of financial ease and continuity of support.
–Rev. Niamo Nancy
---
Claim Note:
The HealMobile offers educational and inspirational services and information. We want the best care for you, but cannot diagnose, cure or treat any disease, mental illness, or chronic medical condition.
Therefore, for long-standing physical or emotional problems, see your medical doctor or licensed health professional. Share your interest in the holistic approach with him or her. Ask for help in creating a plan for the complete healing of the symptoms and causes that concern you.
-->