Let's Improve the Healthcare System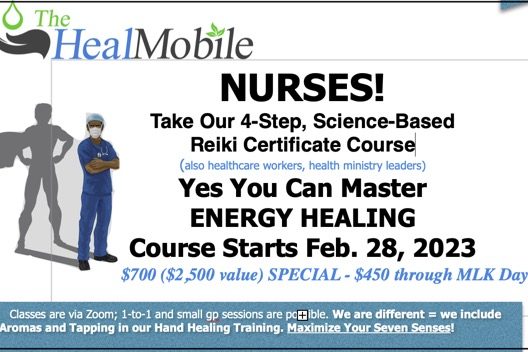 If you think the Healthcare System can be improved – from inside out – read on. We are looking for those nurses who wish to expand their personal mission of helping people to add ancient and modern hand-healing to their tools of the trade. The purpose is to spread energy healing throughout hospitals AND medical "urgent care" -type clinics in the U.S.

FIRST, working nurses are needed as Beta Group participants to assess the course entitled, "NURSES! Master ENERGY HEALING to 10x Your Career." The course will start Feb. 28, 2023, 6pm, the Creator willing. Here is the curriculum so far and Beta nurses can help to shape and deepen it:
#1:10x Your Healthcare System Career Introduction, Feb 28, 6pm est
Why Energy Healing is Imperative for Healthcare Workers
Ground of BEing: Experience Original, Energetic Hand Healing
# 2: Build Your Resource Tool Kit (20-30 Hours, Value $750)
Body Language, Chakras
Tapping Techniques
Olfaction & Aromachology (Smell / Ess. Oils)
# 3: ID Your Energy Healing SuperPower (20-30 Hours, Value $1,750)
Free Your Feelings ™ Method
Practice & Proof
# 4: GET Certified, Reiki 1&2 / Energy Healing (Life access, Priceless)
Remote & Distance Healing using quantum physics
Habits & Routines to define your trajectory of mastery
Redefinition of Career Goals
BENEFITS OF BETA PARTICIPATION
network in a small group of 5-8 persons (mastermind)
share and learn remote & distance techniques (telemedicine!)
opportunity to contribute to a regional & national initiative
learn by doing – 10x your skills set and professionalism


Requirements for Beta Group participation:
– 5+ years in the field of nursing – any specialty
– 3+ years of certification as an energy/light worker – any modality
– experience in applying hand-healing approaches in your profession/work
– able to commit to 1x-2x meetings, for 1 week straight OR over 4-5 weeks (TBD)
– willingness to practice remote/distance healing with group members

Healers, leaders of house-of-worship health ministries (laying on of hands), care-givers, and and EMT professionals are invited.

THIRD – THANK YOU – You put a lot into Western nursing and care-giving, and this effort is to assist in releasing the squeeze on the current healthcare system ( emergency rooms, etc.). Let's increase and enhance our front line workers' wellbeing. YOU intimately interact with patients continuously, and YOU KNOW the kind, caring, energy with a healing vibration, that is needed.

COST. Gratis [This is not the course price. Beta Group only]
RSVP info@thehealmobile.com by Jan. 31, 2023
SECOND, IF YOU ARE A NURSE,
…nurse-practitioner or nursing assistant, and have been trained in Reiki or holistic energy healing such as Pranic Healing, Ra-Sekhi or Healing Touch, please consider participating as a prelude to the launch of this course.
Questions? Contact Niamo The HealMobile via text or online. (201) 966-1170. Her book, Light on Reiki and Neo-African Mysticism comes with course. Alternatively, you can purchase the digital version on Amazon or the book on this page. FB, Twitter or IG – @healmobile @niamothehealmobile
(Rev. Niamo N. Muid, M.S., OMP, CHHC, CRMT, Life Coach, Spiritual Aromatherapist, Breathologist)
Nurses without energy training who want to take the course can purchase at the SPECIAL RATE NOW (thru 1/15/2023).  For PayPal at the discount price click here through MLK Day. [OR, using Square in our store, choose "Free Your Feelings" on this page: https://thehealmobile.com/shop and add a note regarding the course.] TY! See the descriptive flyer on this African Holistic Health January 1, 2023 newsletter page (cut and paste then scroll down):
https://myemail.constantcontact.com/News-from-African-Holistic-Health-Chapter-of-NY—Jan-1-15–2023—Happy-New-Year–.html?soid=1102919617421&aid=grLjUxS3ucE
-->