Gabby Thomas Q&A – This Sprinter Wants to Tackle Health Disparities—But After the Olympic Trials
Success—both on the track and off—came relatively early for sprinter Gabby Thomas. In 2016, she made her first appearance at the U.S. Olympic Track and Field Trials in the 200 meters. At the time, she was just a freshman at Harvard University, training under coach Kebba Tolbert.
In March 2018, she broke the collegiate record for the 200 meters, running 22.38 seconds at the NCAA Indoor Track and Field Championships. Later that year, Thomas turned pro, forgoing her final season of collegiate eligibility to sign with New Balance.
The 24-year-old graduated in 2019 with a degree in neurobiology and global health and health policy. Now, she's a graduate student in public health at the University of Texas and training under Tonja Buford-Bailey, a UT coach who also heads her own elite group of Olympians and Olympic hopefuls, The Buford Bailey Track Club.
Thomas's speciality remains the 200 meters, but she's versatile. On May 31, at the American Track League's Duval County Challenge in Jacksonville, Florida—her last competition before the Trials—she won her 100-meter heat, then skipped the final and ran the 400 meters. Her 51.15 in that race earned her third, behind Allyson Felix and Wadeline Jonathas.
Now, she's heading into the Trials feeling optimistic, and with a health concern of her own lifted—on June 7, she learned a tumor that had been detected in her liver on an MRI of her lower back was benign and wouldn't require treatment.
Thomas spoke to Runner's World June 2 about studying epidemiology during a pandemic, doping in sports, her pandemic puppy (a pug named Rico), and just what it will take to make it to Tokyo.
→ Join Runner's World+ to get the latest running news, training tips, and exclusive workouts!
This interview has been edited for length and clarity.
Runner's World: The buzz is all about your chances in the 200 meters, but you're also qualified in the 100 meters and 400 meters. What's your plan heading into the Trials?
Gabby Thomas: The 200 is definitely my baby, so I'm still feeling really good about that one. After running a 400, the 200 is going to feel like a breeze. And then running the 100—I have that speed now, I feel so confident for the front end of my 200, which wasn't always my strongest point in the race.
After the 200, I am keeping my options open. I definitely want to be on a relay team at the very least, the 4×100 meters or 4×400. Now it's just a matter of deciding which event to do. Right now it's really 50-50.
How did you choose Austin, and what has it been like training with the "Bailey Bunch"?
In 2019, I was looking for an environment where I could be around professional athletes and also go to graduate school. I met Coach Bailey in Monaco at a Diamond League meet, and we clicked. She's a Black woman, and her group is Black women who I admired on the track. I visited, and it was a perfect fit.
My training partners have been so helpful. Morolake Akinosun, a 100-meter runner, has helped me so much with my starts and having that consistent intensity in practice every day. Ashley Spencer, who does the 400-meter hurdles, really helps push me fitness-wise. Coach Bailey is so supportive, like a mother. If you're doubting yourself, you can always count on her to pick up the phone or be right there and talk to you for however long it takes for you to feel like a boss again.
Austin has so much more to offer away from the track—whether that's school or the outdoorsy scene or all the good food. After the Olympics, I'm excited about seeing live music and all the other fun things I missed because I moved here right before the COVID-19 pandemic.
Coach Bailey has been to the Olympics three times herself, and won bronze in Atlanta in 1996, in the 400-meter hurdles. What are some of the lessons she imparts?
She lets you know where you have to be not just physically, but also mentally and emotionally to make an Olympic team. You have to be tuned in every day. She also understands the body of an athlete—the boundaries and how far you can push it. A lot of times it's hard for coaches to grasp that, because they haven't done it. When we were talking about doubling in the 400 and the 200, people were saying, is that going to be too much? She's like, 'Well, no.' She knows when you can actually take more.
That being said, if I show up to the track and I'm like, 'I have a little kink in my ankle,' she's like, 'Alright, we're shutting it down,' whereas another coach might tell you to push through it. She's also a great mentor when it comes to things off the track, such as my nutrition, which is not something I was diligent about before.
What are the biggest changes you've made in Austin?
I came from college where I was eating in the dining halls. When I first got here, I was eating out a lot. I would say I was at a C-minus; now I'm probably at a B-plus. I've cut out processed foods, limited eating out, and I'm not living in the frozen food aisle. I don't love cooking, especially for one person, but I bought an air fryer, and it's been my best friend. My favorite thing to cook is salmon and asparagus, or chicken wings. My go-to salad is a kale salad—I love kale, so that's a vegetable I can eat consistently.
It can be overwhelming to think, what am I going to cook? But one of the tips she gave me was if you have a couple of things you like and can do regularly, it makes it a lot easier. I'm still not perfect, but I feel better, more energized when I go to train or at a meet.
What's your training like, and how different is it than your training at Harvard?
With Coach Tolbert, we were very speed-power based. I never did long runs at practice; I did maybe one 300-meter run per year. I knew when I moved to a new training group I couldn't go somewhere where they were running you into the ground with a lot of mileage.
With Coach Bailey, it's kind of in-between. I've had my fair share of 300s with her, so that's been a little brutal. An average interval day might be about 1,500 meters. We train Monday through Friday, including lifting on Tuesday and Thursday, and a lot of times we get Wednesday off. Coach Bailey is big on work hard, rest hard. Otherwise it isn't drastically different. The biggest thing is being around world-class athletes.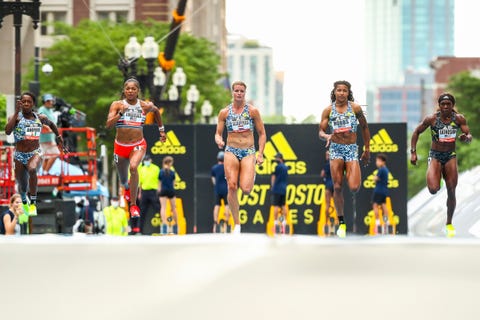 Gabby Thomas (second from left) competes in the 100 meters at the Adidas Boost Boston Games on May 23.
Adam GlanzmanGetty Images
How did you adapt training during the pandemic?
We took that day by day. We didn't have access to our track, and we couldn't form groups of larger than five. We started having practice completely separate—a group of three, another group of three, and then another group. When we couldn't get a track, we were just on the grass or concrete. The toughest part was not knowing if or when we were going to compete. We're doing these really hard workouts, and we're like, 'I don't know if this is even worth it,' but we pushed each other through.
There were other ways Coach Bailey kept morale up and got some general fitness in. For a minute there, we were biking on Mondays, along the river and through downtown Austin. We did paddle-boarding one practice and that was super fun, a good core workout. Another time we played kickball. We were creative.
Did you have contract issues because you weren't racing?
I remember being stressed out about it, because I knew other shoe sponsors were cutting people. But New Balance was constantly checking in, during the pandemic, and with the Black Lives Matter movement and protesting as well. Their priority was making sure we were okay, and were going to come back emotionally sound. That was a huge weight off my shoulders.
With all that and now professional tennis player Naomi Osaka discussing her depression, there's a focus on athletes' mental health, especially those who are women of color. You've posted about this before; what are some messages you hope people take away?
I was so ready for this conversation. It's so important to see another Black woman stand up for herself and take care of herself. That's what I urge everyone to do. So often, we feel this pressure to just be quiet and do our sport. That can take a toll, mentally and emotionally.
A lot of people make these conversations about money—this is your job, this is what you do. But some things are more important than money, and my mental health and emotional well-being is not for sale. I see fans talking about myself or other track athletes on the internet as if you can't read and you don't have feelings, and you can tell they don't see you as a person. So I think Naomi is a great role model in this situation.
What does self-care look like for you?
I posted on Instagram about how running is an outlet to get away from the other stresses in my life. My college coach introduced me to meditating and it's been very helpful. The breathing part of it is what really makes a difference, even before a track meet—he reminds me to take 10 deep, slow breaths if I'm freaking out before a meet. Walking with my pug is also really therapeutic. And sometimes it's just watching TV. This Is Us is my favorite show. I just started watching Sex and the City, which I've never seen. Friends is my go-to, and of course, Grey's Anatomy.
What drew you to epidemiology and public health, and what has it been like studying that during the pandemic?
I was always interested in healthcare. Prior to signing with New Balance—something I never thought was going to happen until it did—I wanted to work in health policy, and was super interested in health disparities. Public health was a natural transition. Epidemiology—the study of diseases and the populations and the patterns behind it—can be very relevant to why certain demographics and populations are experiencing certain health outcomes.
But I did not foresee COVID-19 happening when I had just gotten into an epidemiology program! I was planning on starting my masters in public health in the fall of 2020. When COVID hit, I decided to start classes that spring and summer. They were online, so it was convenient, and I got a lot of my base requirements out of the way. That was a silver lining; I'm halfway done already. But if I could do the next half in a classroom, that'd be great.
I'm also studying healthcare administration. During COVID, I did a practicum with a startup in Austin called Sedera, an alternative to traditional health care insurance. It taught me a lot about how the healthcare world works, exposed a lot of the problems and some really cool solutions. I think I'd like to transition to the business side of healthcare after track.
But for now, it seems like track is going pretty well. What is it like lining up against a four-time Olympian like Allyson Felix? And are you tired of answering questions about her yet?
I don't mind answering questions about Allyson—I mean, she's Allyson Felix. I'm humbled being compared to the likes of her. She was the first track athlete I ever watched on TV. I've learned so much from watching her and running against her—how comfortable and relaxed her stride is, how she runs her races. I don't know if this is her last year or her next-to-last year, but there's this cool passing-of-the-baton dynamic.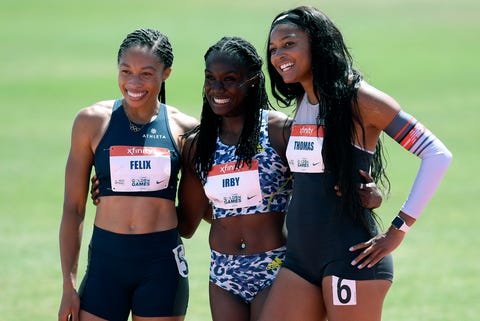 Gabby Thomas (right) with Allyson Felix (left) and Lynna Irby (center) at the USATF Golden Games.
Harry HowGetty Images
The other thing that's less fun to talk about is the whereabouts issues. You were provisionally suspended last May for missing doping tests, but your suspension was lifted in July when you presented new evidence. Is there anything more you'd want to say about that, or how that situation might be avoided in the future?
I do take responsibility for not being super diligent about it. I would fill out my whereabouts, but obviously, it wasn't something that was on the top of my mind every time I would go somewhere. Being a college senior at Harvard, I didn't understand the gravity of the doping situation in track and field.
There's also the fact that there are two testing pools—there's USADA, and there's also the AAU, and I didn't understand I was in both. Now that I do understand the extent to which it's a problem in our sport, I'm very serious about it. I will say that situation itself was a little bit frustrating. The biggest one for me was the fact that she [the doping control officer, or DCO] showed up, and then left after about 10 minutes. During the [Christian] Coleman case, they said the DCOs have to stay the full hour, so if you weren't there in an hour, that's too bad on you. And I was like, how can you say that to Coleman but for me, they didn't stay the full hour and that's too bad? The rules have to be applied on both sides.
But it was a good learning experience. There are a lot of whereabouts cases going on right now, and I hope other people have read them and take the time to learn the rules. Everyone needs to protect themselves and protect the sport.
Sounds like you've learned a lot in just the past year—and probably even more since your last Trials. What else will you carry with you at your second appearance?
The last time was really just going through the rounds. I didn't expect to get that far. It helped my confidence to know that as a freshman at Harvard, I was able to do that just by staying relaxed and not stressing too much. The only difference now is I'm just better. If I can get sixth in the final as a Harvard freshman, I feel pretty confident about my odds five years later.
Cindy Kuzma
Contributing Writer
Cindy is a freelance health and fitness writer, author, and podcaster who's contributed regularly to Runner's World since 2013.
This content is created and maintained by a third party, and imported onto this page to help users provide their email addresses. You may be able to find more information about this and similar content at piano.io
-->