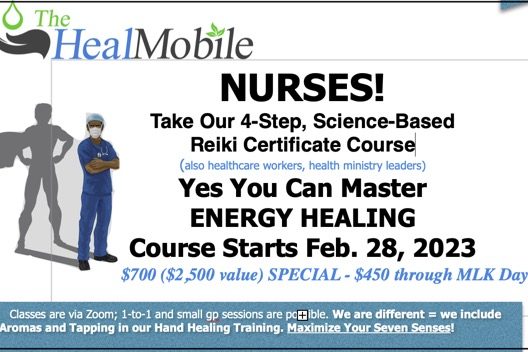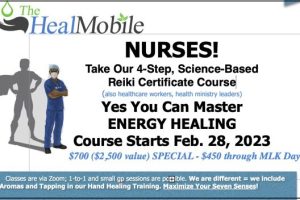 "Achieving great health is as much about what we pursue as what we avoid" –McKinsey Health Institute
The last day in February 2023 is the opening session for NURSES AND FRONT LINE WORKERS who want to add ENERGY HEALING (REIKI) to their professional career toolkit. The price is $450 through MLK Day, January 15/16. Early Bird price is extended only to those who mention it. After January, the price goes to the regular $700 suggested retail price for Reiki 1&2 Certification (which includes Energy Healing 101).
Early Birds click here to prepay and reserve your spot. Registration paperwork will be emailed to you. Text 201-966-1170 for more information (after reading below).
This 4-Step Science-based Course is also suitable for healthcare workers in chiropractic, coaching, counseling, dentistry, medical tech, midwifery, pharmacy, physical therapy and the like.
Part 1: What to Expect From This Course:
Why Energy Healing is Imperative for Medical & Healthcare Workers

Ground of BEing: Becoming Grounded in Original,  Energetic Hand Healing
Part 2: Building Your Resource Tool Kit
Part 3: Putting It All Together – The HealMobility of Your Life
Your Energy Healing SuperPower

Free Your Feelings ™ using Toolkit Resources

Practice & Proof
Part 4: Certification in Reiki 1&2 and Energy Healing
Remote & Distance Healing using quantum physics

Habits and Routines to delineate the trajectory of ascension (transformation)

Refining Career Goals
Early Birds click here to prepay and reserve your spot. Registration paperwork will be emailed to you. Text 201-966-1170 for more information (after reading below).
WHY ARE WE DOING THIS NOW?
Because extreme working conditions occur every day in hospitals, emergency rooms and clinics across the country, and in professional offices where one-to-one services are provided. What if there was a way to head off such upsets? The good news is, there IS!
There is a shift in society, in how medicine is viewed and how it is rendered. As a health worker  have everything except that ONE IMPORTANT THING required to master the new healthcare delivery paradigm. That one important thing is called ENERGY, as in energy healing and energy medicine. What would it look like to be able to increase your energy level at will, like pressing a button? IT IS HIGH TIME you take the reins and be prepared to lead, handle and manage the new paradigm, for the benefit of your facility, business or organization.  Pursue the NEW – you can master your energy much sooner than you think.
If you haven't heard the buzz about ENERGY WORK, it's probably impossible that you've missed reference to the Asian martial arts— kung fu, qigong, tai chi and others. The martial arts are energy arts intertwined with traditional Chinese medicine health approaches, such as acupuncture and acupressure. These ancient-science skills are also aspects of energy medicine and energy healing. It is time for YOU, because you are reading this, to investigate whether energy healing is something you need to add now, to your skills set. If you are committed and can see it for yourself, you too can be an energy medicine practitioner. These times certainly demand it.
Early Birds click here to prepay and reserve your spot. Registration paperwork will be emailed to you. Text 201-966-1170 for more information..
WHO IS THIS COURSE FOR?
Career nurses and traveling nurses, who can see change on the horizon, sense their limits, and can admit a blindspot

Healthcare professionals who want to broaden their relevance because they know they can serve better

Caregiver business owners who want to train staff in holistic perspectives and modalities
In this Immersion course every medical and healthcare worker will learn:
the distinction between energy healing and energy medicine

why the body's ability to heal itself is one of natural wonders of the world

what IS the mind-body-spirit connection, and how to understand yours

how to listen to your patient's body, mind, and spirit messaging

how to identify your energy healing superpower

when to apply your gift, and when not to

the science behind all of it

how to incorporate energy medicine into your private practice

how to incorporate energy self-healing techniques into your normal family routine, improving family health at the same time that you improve your performance on the job

how to avoid becoming an emergency room statistic
In addition, here's what Nurses & Medical/Health Workers will learn from this course:
new healing techniques to add to the nurse/practitioner toolkit

new soft skills for improving customer/patient interaction

transferable knowledge base suitable for any healthcare institution

how to adapt this uniquely transportable skill set

ways to improve body language assessment and interpretation

how to exercise the third eye and be confident about intuitive messages

how to use the energy tools to better manage time and self-care and avoid burnout

how to enhance the experience of visitors in waiting rooms, families visiting patients, etc.

the best, holistic way to build your leadership style and skill

how to accept the clarity your new energeticism gives you in planning your career and your life
Early Birds click here to prepay and reserve your spot. Registration paperwork will be emailed to you. Text 201-966-1170 for more information.
Here's what Hospital Administrators will learn from this course:
how to place medical marijuana—and other herbal remedies—in their proper context

how to be in the forefront of trending holistic health and alternative medicine ideas

micro and macro holistic tools for resolving intractable management issues

how to position the facility as an advanced, cutting edge and comprehensive facility

ways to build a stronger chaplain program

ways to maximize efficiency in managing the community outreach budget

ways to increase holistic health fluency and networking with the contiguous HH community

holistic aspects human resource management, strengthening equity and cultural competency

possible ways to market the allopathic and holistic or complementary care services available

fundamentals of the science of "placement" for maximum effectiveness of staff and patient flow
Here's what Physicians will learn from this course: 
new meaning and interpretation of "bedside manner"

new ways to tell patients about data and facts affecting their condition

how to reduce the white-coat syndrome some patients experience

how to apply quantum knowledge to tailoring a patient's diagnosis and prognosis

how to gain medical insight from a patient's self-care or holistic journey and how it affects their current condition

how to combine academic knowledge with energetic sensing for diagnosing and prescribing

your personal energy power and how to use it when helping people

ways to enhance your personal gift for healing others, through superfoods and more

how and when to apply mystical ideas such as the organs and systems linked to the chakras

what are appropriate uses of metaphysical tools such as magnets, crystals, oils, and more
COURSE INSTRUCTOR:
Niamo Nancy Muid is a certified holistic health consultant, degreed specialist and ordained minister-practitioner offering The HealMobile as "spiritual transportation" and counsel for those at life's crossroads. She is an energy worker steering "vehicles of spirit" (heal-mobiles) onto the freeway onramp headed toward their Best Direction and Optimal Destiny. A writer and nonprofit specialist, she has combined her holistic health teaching license, urban planning master's degree, life coaching, breathology, and Reiki teacher certification and more, to focus on the U.S. healthcare system, beginning with nurses and front line workers. She's worked with Barnabas Health/Beth Israel Children's Hospital in Newark NJ and Dr. Sakhshat Flowers' Healing Center in Montclair NJ. She teaches how to use energy work (Reiki+), Tapping (emotional freedom techniques), and Aromachology to clear the way and enhance optimum performance of health workers. Find her books on Amazon
or here
.
Early Birds click here to prepay and reserve your spot. Registration paperwork will be emailed to you. Text 201-966-1170 for more information.
"Niamo is a powerful teacher. She gently pushed me and was persistent in challenging me in a positive way. She didn't let me get away with crap, and challenged me to do the work." -MR, Ottawa
"Thanks again Niamo, for the awesome training!" – ZMA- New York City
"Enlightening, empowering, useful/ encouraging!" – ML, Newark, New Jersey